On October 13, 1775, the Continental Congress adopted a resolution establishing what is now the United States Navy.  It authorized the commissioning of "a swift sailing vessel, to carry ten carriage guns, and a proportionable number of swivels, with eighty men, be fitted, with all possible despatch, for a cruise of three months…." After the American Revolution, the Constitution of the United States (Article I, Section 8) empowered the Congress to "provide and maintain a Navy," which the people's representatives did through the establishment of the Department of the Navy on April 30, 1798.
As the Nation approached its bicentennial, Admiral Elmo R. Zumwalt, the 19th Chief of Naval Operations (CNO), in 1972 authorized the official recognition of October 13th as the U.S. Navy's birthday.  Adm. Zumwalt and each of his successors as CNO have encouraged celebrations of this historic day throughout the Navy "to enhance a greater appreciation of our Navy heritage, and to provide a positive influence toward pride and professionalism in the naval service."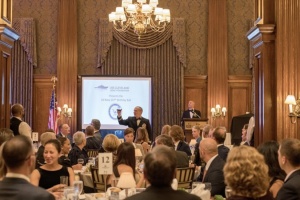 The USS Cleveland Legacy Foundation is pleased to bring this long-standing naval tradition to our region.  Launched in 2022, the Navy Ball of Cleveland sold out the ballroom of The Union Club and raised over $130,000 for the USSCLF's mission.  In October we'll return to this beautiful venue to mark the Navy's 248th birthday with appropriate pomp and ceremony.
Sponsor tables are available by contacting Courtney Smrdel at csmrdel@usscleveland.org, and general tickets will go on sale in the near future.  With only 200 seats, this event will sell out fast, so make plans now to join us for another special evening honoring the world's finest navy!