Phase I
Contract through Commissioning
Phase I includes the following major milestone events:
Keel Laying – anticipated 2021 in Marinette, Wisconsin
Christening – anticipated 2022 in Marinette, Wisconsin
Delivery – anticipated 2023 in Marinette, Wisconsin
Commissioning – anticipated 2023 in Cleveland, Ohio
In addition, to help increase awareness of the future USS Cleveland and Naval history and heritage in northeast Ohio, the USS Cleveland Legacy Foundation is partnering with the U.S. Navy Memorial in Washington, D.C. to sponsor and have installed at a location near Lake Erie in downtown Cleveland a replica of the Lone Sailor Statue.  Sponsorship opportunities are available.  Please contact Mike Dovilla at mdovilla@usscleveland.org.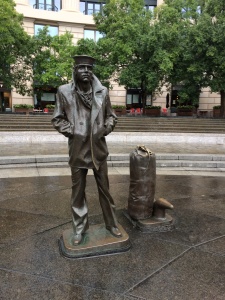 Phase II
Service Life
Phase II overlaps to some extent with Phase I, as planning begins when the crew of the future USS Cleveland is identified and begins training (prior to commissioning).  As a result, the Ship Sponsor and USS Cleveland team will have forged a deep relationship with the crew before the ship departs Cleveland for her homeport in Mayport, Florida and future deployments abroad.
During Phase II, Greater Cleveland will continue to support the ship and her crew by initiatives such as:
providing welcome aboard sea bags with Cleveland items for new Sailors,
engaging in special recognition upon promotions, advancements, retirements, and major events in Sailors' lives (g., marriage, birth of children)
sponsoring a Sailor during his/her tour of duty on the ship (this could be done by an individual, family, company, school class, civic/fraternal/veterans organization, church group, etc.) with the goal of each Sailor being sponsored by an entity based in Cleveland
hosting an annual Thanksgiving dinner in Mayport, Florida for the crew and families and conducting an annual holiday toy drive for children of crew members
shipping care packages to the ship when she is deployed;
offering career transition support to Sailors approaching the end of their service, with the goal of connecting men and women who have served on board LCS 31 with employers in northeast Ohio, thus attracting talented veterans to our hometown to live, work, and raise their families; and
providing care and support to the crew in other ways to be identified.
Phase III
Retirement as Museum
Phase III would begin as the end of the ship's service life approaches.  If the U.S. Navy has no higher or better use for the ship, the USS Cleveland Legacy Foundation would negotiate a purchase with the goal of returning the ship to Cleveland to be docked at the Great Lakes Science Center to become a permanent museum and memorial to all four United States Navy ships that have borne the name Cleveland.