Phase I
Phase II
Phase III
Phase I
Contract through Commissioning
Phase I includes the following major milestone events:
Keel Laying – June 16, 2021, in Marinette, Wisconsin
Christening – April 15, 2023, in Marinette, Wisconsin
Delivery – anticipated 2024 in Marinette, Wisconsin
Commissioning – anticipated 2024 in Cleveland, Ohio
To help increase awareness of the future USS Cleveland and Naval history and heritage in northeast Ohio, the USS Cleveland Legacy Foundation has partnered with the U.S. Navy Memorial in Washington, D.C. to sponsor a replica of the Lone Sailor Statue. The statue was dedicated on September 10, 2021, in a ceremony at Great Lakes Science Center, the statue's temporary location. The Foundation is working with the City of Cleveland and other local nonprofits to move the statue to its permanent location in Voinovich Bicentennial Park, scheduled for summer 2023. The Lone Sailor – Cleveland is only the 18th such statue in the world, joining other storied Naval locations including Pearl Harbor, Normandy's Utah Beach, and major fleet concentration areas in the continental United States. Sponsorship opportunities are available.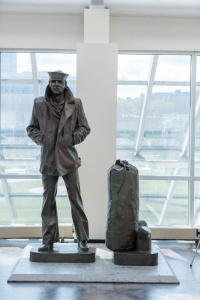 Phase II
Phase III