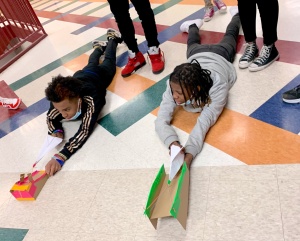 The future USS Cleveland (LCS 31) is named in honor of the people of the City of Cleveland – diverse residents of our city and region from various neighborhoods, backgrounds, and demographics.  A key constituency among our residents is children, the young people who represent Greater Cleveland's future.
That's why the USS Cleveland Legacy Foundation developed STEAM Stars, an educational initiative designed to help students develop critical skills, explore career paths in the disciplines of Science, Technology, Engineering, Arts, and Mathematics (STEAM), and have fun learning.
STEAM Stars is a platform to share the Navy's values of teamwork and innovation with the youth of northeast Ohio.  The USS Cleveland Legacy Foundation's aim in offering this program is that each student walks away more curious about the world and more confident finding his or her place in it.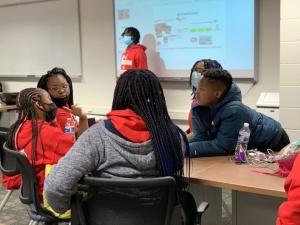 The STEAM Stars program is composed of a set of ready-to-go STEAM lessons for middle school and high school students.  The program consists of seven modules including presentations, hands- on activities, and guided lesson plans that bring classrooms together as they explore STEAM concepts through a U.S. Navy lens.
Lesson Summary
MODULE 1: U.S. NAVY WATER VESSELS
Learn about Navy ships and their capabilities. Understand scientific principles of buoyancy, density, and displacement. Use the engineering process to design and build model ships and conduct sea trials.
MODULE 2: U.S. NAVY AVIATION
Learn about advanced technology systems used in and by Navy aircraft. Understand how potential energy is converted to kinetic energy. Use the engineering design process to build and test an airplane launcher.
MODULE 3: U.S. NAVY SUBMARINES
Learn about submarines and the Marine Mammal Program. Discover science and technological tools for navigation underwater. Test understanding with a simulation activity.
MODULE 4: U.S. NAVY INFORMATION WARFARE
Learn about careers and objectives of the Navy's Information Warfare Communities. Use visual and critical thinking in a mock intelligence exercise, build and test a scientific instrument for measuring wind speed, wire digital circuits, and more.
MODULE 5: U.S. NAVY MEDICINE
Learn how the Navy has pioneered and inspired innovation in the medical field. Understand occupational hazards affecting physical bodies and ways technology is used to bring solutions to Sailors and our world. Engage in a team project building skills in empathy, planning, creative and critical thinking, and collaboration.
MODULE 6: U.S. NAVY MUSICIANS
Learn about Navy Musicians and their role in operations. Gain an understanding of the scientific benefits of music including building community and bridging cultural barriers. Use technology tools to compose and arrange music, and work as a team to perform a short composition.
MODULE 7: U.S. NAVY TEAM SKILLS
Learn lessons on teamwork from the Navy SEALS. Gain an understanding of ways students can be better teammates to each other. Participate in an "Ultimate Teamwork Challenge!" series of activities focusing on building communicating, reasoning, and critical thinking skills.
For more information or to request materials for your school, please contact Courtney Smrdel at csmrdel@usscleveland.org.